What's New on the Site / Announcements | New Spine Research | Phone Coaching, Report Writing & Image Usage Services |Coaching Session Work Product Examples| Coaching Session Testimonials |
This site is best viewed with FireFox or Internet Explorer 5.0 or higher and a screen resolution setting of 1024 X 768 pixels.

IT IS MANDATORY THAT YOU READ MY 'DISCLAIMER' BEFORE ENTERING THIS SITE, AND REMEMBER THAT ANYTHING YOU MAY LEARN HERE SHOULD NEVER BE USED TO REPLACE OR MODIFY YOUR DOCTOR'S ADVICE!!!

Welcome to ChiroGeek.com, a site created and managed by Douglas M. Gillard, BS, DC. All images on this site are copyright protected and may not be used without written permission from Dr. Gillard. Some images, however, may be purchased.
In 2002, after suffering numerous bouts of back pain throughout my life, I suffered a devastating and life-altering injury to my low back following a competitive cycling race that ultimately lead to a failed microdiscectomy, chronic bouts of sciatica and the creation of this page. Not only did this sciatica end my athletic career completely (now my biggest challenge is just walking for distances greater than a mile), in 2011 it was one of the factors that forced me to drop out of medical school, which was particularly heartbreaking, since it ain't easy for a 51-year-old to get into Medical school. And recently (8/2013) you could say it almost killed me, for a severe flare-up forced to stop all walking and lay around, which resulted in massive DVTs and PEs. So Sciatica crushed my two lifelong dreams--winning an Olympic metal in the hammer throw and becoming a medical doctor--and damn near killed me. its a horrible condition that I wouldn't wish upon my worst enemy. See my blog for my latest struggles.
In attempts to keep my level of function as high as possible and keep my readers informed, I have devoted the last 11 years of my life to researching all causes of back and neck pain, which includes disorders such as discogenic pain syndrome, internal disc disruption, isolated disc resorption, disc herniation, spinal stenosis, scoliosis, spondylolysis, spondylolisthesis, facet syndrome, SI syndrome, and piriformis syndrome.
My level of expertise now extends far beyond my chiropractic training, brief medical school training, and 25 years of clinical experience, for I am now the director of Spine Research for Dr. Donald Corenman, MD, DC, orthopedic spine surgeon and a Spine Researcher for the Steadman Philippon Research Institute. I am also now a published author in the world's number on peer-review spine journal, the journal SPINE [here's an evaluation copy (please buy it if you like it) of our paper: TLIF for DPS].
Dr. Corenman has also taught me a great deal about the more complicated surgical cases, which are not seen by many, and I continue to learn more and more about the different surgical techniques available for the more rare diagnoses.
The main purpose of this webpage is for patient education. Study these pages carefully before you speak with that spine specialist, for if you do, you will be able to interact intelligently with the physician and understand what he/she is recommending. In fact, it is fair to say that the information contained in these pages is far beyond the training of general medical practitioners and even many spine specialist.
If you still have questions and are confused, I am certainly available and offer a "Coaching Service" that will help you through these tough times and to navigate the complicated waters of available medical treatment for your condition.

So WELCOME TO CHIROGEEK.COM and ENJOY this ad-free, pop-up free and spy-ware free site!
© Copyright 2002 – 2013 All rights reserved - Douglas Gillard, BS, DC. Absolutely no copying or printing of any of the material on this site without the written permission of Dr. Gillard. Some images, however, may be purchased.
What's New:
Pinned: 11/23/13: Second Success! I got myself published this time (the paper was completely my idea):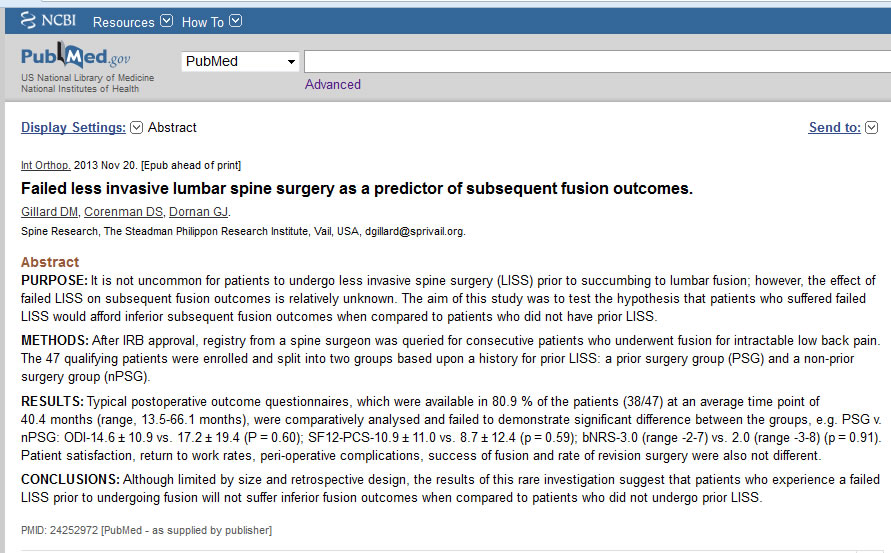 Pinned: 6-14-13:Success! I just got Dr. Corenman and myself published in the number one peer-review journal for spinal research: SPINE. This is a real feather in our caps, but it sure was not easy! The very rare paper is about his results with transforaminal lumbar interbody fusion for the treatment of patients with pure discogenic pain syndrome (the more common diagnoses such as spondylolisthesis, scoliosis, spinal stenosis, recurrent disc herniation and instability, were not allowed into this study). Believe it or not, (I wouldn't have believed it, unless I collected this raw data with my own eyes) he obtained a 90% median patient satisfaction rating at approximately 4 years status-post fusion and got about 85% of the patients back to work. And this group of patients, is hands-down the toughest to treat with any procedure. My unedited version of the paper will be up on the Spine website very shortly, and I will definitely make an evaluation copy of the paper available to my followers. 7-4-13: Here is the first proof. My writing and grammar sure has improved since I started writing this site 10 years ago! Professional reviewers found only one typo (thanks a lot Dragon Naturally Speaking) and no grammar errors! Also the paper is now citable and a free abstract is available at PubMed.Com.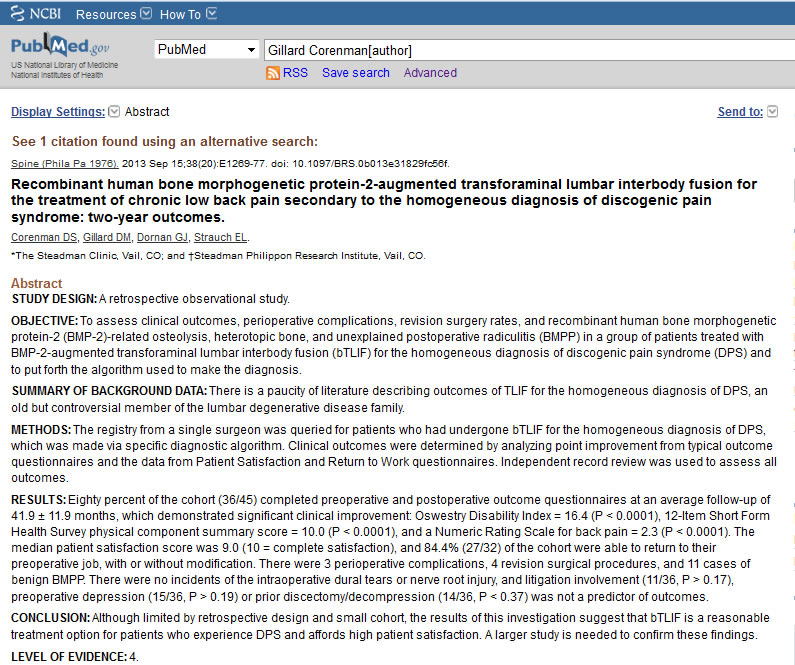 7-21-13: Added some new examples to the spondylolisthesis page and fixed some typos and poor grammar.
7-20-13:Giving the "MRI Page" some updated information which includes a very nice axial T1 weighted MRI tutorial, which looks like this:
7-4-13: First proof is now available of our paper published in the number one high impact spine Journal, Spine. Our paper is also available now in abstract form on PubMed.com. Also, here are my comments regarding the continued controversy over BMP-2 augmentation for spine surgery, which has been recently fueled by an article in the New York Times.
Comments: It is disappointing that the New York Times completely failed to mention the two main reasons why many spine surgeons use BMP in the first place: (1) it significantly decreases pseudoarthrosis (failure to fuse) and (2) completely eliminates the chance of chronic pain, secondary to iliac crest bone harvest (taking bone from the patient's hip and using it for the fusion procedure). It really seems like this article was biased against Medtronic (I mean why not present the other side story? And by the way, you should know I have absolutely no financial ties with Medtronic – they have never paid me a single penny. There is no question in my mind that initial investigators should have reported some of the phenomena that is absolutely associated with the use of BMP, such as the development of self-limiting osteolysis and heterotopic bone formation and, ostensibly, and unexplained postoperative radiculitis. In the paper we have waiting for acceptance in The Spine Journal, we found approximately 30% of our patients develop these unusual BMP phenomena following its use; however, it was not related to anything: clinical outcomes, perioperative complications, rate of revision surgery, or return to work status – statistically speaking it was just a finding demonstrated on MRI and/or CT scan. In layman's terms, at an average follow-up of almost 4 years, the patients who developed the BMP phenomena did just as good as patients who didn't. And by the way, this group of patients, although small (n= 26) had a 90% median patient-satisfaction rate, which I would have never believed possible of any fusion technique if I wouldn't have seen the results with my own eyes-- but this is another story and I will certainly post a link to the paper once I get it officially published in one of our high impact journals. Have a great Fourth of July everybody!
6-19-13: another huge development in the world of spine surgery: read a little more about it on my current research page, or go to the article in the New York Times to study more.
6-15-13: There has been a pretty big development in the world of spine research: a group of physicians/researchers have published the results of a double-blind, placebo-controlled trial (you can't get a more high-quality study designed then this) which revealed that a simple 100 day course of antibiotics therapy greatly reduced the chronic back and leg pain in patients who have failed previous discectomy and/or conservative care. The patients in the placebo group, who did not know for one year whether or not they got the real antibiotics or the fake antibiotics (placebo), had virtually no improvement at all. These results have stirred up a firestorm amongst researchers and have prompted us to design our own study to further test this theory of bacteria as a cause of back and leg pain. Read all about it here: I also received a nice e-mail/testimonial from a happy client [here].
3-24-13: reviewed a exciting new technique/paper (intradiscal biacuplasty) for the treatment of chronic lumbar discogenic pain. The paper, which was a randomized placebo-controlled trial (a very rare type of experiment), demonstrated that biacuplasty was statistically significantly better than a placebo (which was a fake intradiscal biacuplasty) as patients in the treatment group were better after the procedure with regard to pain, activities of daily living and disability. Read all about it here.
1-17-13: Updated my diary/blog and post a new testimonial.
11-10-12: the "annular tear page" has been fortified with the new image and verbiage to encompass new research.
10-7-12: the "fusion 101" page has been fortified with new research.
9-29-12: a recent client was gracious enough to allow me to use her coaching session webpage as an example of what to expect from such a service. It got some beautiful anatomy on and demonstrate a classic example of symptomatic stenosis with isolated disc resorption. [here]
9-17-12: Using a new file server for those of whom want to upload me their MRI for a Coaching Session [here].
6-17-12: I have completed a better version of my "fusion 101" page [here].
4-21-12:finally, after about a month's work, I'm launching a rough draft of my "Fusion 101" page [here].
4-8-12: Added an example page so folks can see what kind of teaching device I create for patient who want a coaching session. [here] If you would like to speak with me about your pain and what to do, learn about that service here.
4-5-12: Added a bunch of pictures of my journey by car from San Jose, CA to Vail, CO. Hands down the best trip I've ever taken by car. Beautiful country, both Utah and Colorado. [here and here].
3-23-12: Made a long overdue -- and very informative I might add -- open / microdiscectomy page [here].
3-18-12: Made a new page on the different minimally invasive procedures geared to treat small contained disc herniations [here].
3-13-12: I'm taking the job as a spine research scientist for a very prestigious medical clinic in Vail Colorado [here].
3-13-12: I'm now offering, once again, my skills as a seasoned medical-legal report writer.
3-4-12: New Page (lot of work on this one) on a minimally invasive treatment for those pesky small contained disc herniations: Nucleoplasty.
2-29-12: I completed my page on automated percutaneous lumbar discectomy (APLD), which is the most commonly performed minimally invasive form of discectomy to date. May work, but only for a very narrow window of patients. [here]
2-28-12: got my California Chiropractic license back today. I can call myself a doctor once again! Not sure what good that's going to do in Florida, but it's always good to be licensed. Make sure you check out the Research Corner. I've published two rows + of new important studies.
2-21-12: I published my review of a meta-analysis of an FDA approved minimally invasive procedure called percutaneous laser disc decompression
[Here].
2-20-12: I published a new Discography Page [Here].

2-13-12: I published a new review of an investigation into the phenomenon of centralized pain, which affects some unlucky patients. What's that? As this research paper will demonstrate by fMRI, the brains of some chronic back pain patients (as well as patients suffering fibromyalgia) have been re-wired so to speak and have developed the ability to feel pain secondary to low levels of painful stimulus ( or They feel pain when they shouldn't be feeling anything as the control group will demonstrate). Another very impressive study by Nachemson elf. [Here]
2-3-12: I feel like I have just given birth. After five straight days of work, I have just published a page dedicated to one of the best research papers I have ever read. This paper was devoted to reassessing the safety and efficacy of the newly FDA approved cervical artificial discs. It's a must read for any patient considering undergoing the traditional anterior cervical discectomy fusion (ACDF). It is my layperson opinion, that for a select group of patients, cervical artificial disc is the way to go (it is rare for me to jump on the bandwagon with regard to spinal procedures, but this is an exception--there has been the changing of the guard. [Here]
1-24-12: I discovered a paper worthy of making the research corner. Read about a randomized controlled trial that pitted ACDF against an Endoscopic procedure. [Here]

1-22-12: new tutorial that will help thoughs of you who want a fast consultation, to get one by up-loading your MRI files to a server. Then I can download them promptly. This way, there is no delay in waiting for MRI Disks to arrive in the mail. Check it out.
1-16-12: new research papers reviewed and added to the current research page.
11-30-11: Got a new MRI today. See my diary for the details.


10-23-11: I've updated my research page.

05-15-11: I've updated my diary and research page.
10-23-09: I've updated my Diary, the Current Research Page, and the Disc Anatomy page.
10-11-09: I've updated the Annular Tear Page.
09-25-09: The Mini-Consult! By popular demand, I'm going to offer a mini-consultation in which I'll spend 15-20 minutes on the phone with you and even review your MRI images in attempts to identify your problem and formulate a plan of attack for recovery. I'm not sure how it's going to work out (patients typically spend 50-60 minutes with me on the phone) but I've gotten so much e-mail requesting this, I'll give it a try.
I've also updated the Current Research Page with a few interesting new (2009) investigations one of which demonstrates that the mind is a power force in the process of recovery from surgery!!
01-28-09: Damn, another Injury!
10-06-08: I've updated my Current Research Page with 4 new research investigation that caught my eye.
10-06-08: Its been a while. Back's doing great, my sciatica's long gone and I've applied to many Osteopathic Schools in hopes of starting a new and exciting career change--the MCAT is my only hurdle, which I just took last month and am awaiting the what I believe to be bad new--notwithstanding my modern G.P.A. of 3.6, I need a good year to prepare for that damn test; a year that this 48-year-old doesn't have. I've also updated my history page to included my latest condition and story. Doug's Story.
07-01-07: A lot of new spinal research updates have been added to the Current Research Page.
06-21-07: PayPal has been added to my services page in order to facilitate the growing number of phone consultations. Now you can use your credit card to speak to me. Too, I have added several new investigations to the current research page. I also, finally, completed my BS degree (Applied Biology), which I need to apply for medical school. MCAT preparation with begin this fall.
11-24-06: I've added 6 new, what I consider to be, significant medical investigations published in 2006. None of these bode well for IDET, provocative discography, Infliximab, and even microdiscectomy. See my "Current Research Page" [here]
Also want to thank Ferris State University for inducting me into their prestigious Athletic Hall of Fame. Thank you Ray, Dean, and all the other members of the induction committee; it is truly a great honor.
02-19-06: I've reviewed the Torgerson investigation of 1976. This is one of the few radiographic investigations into the false positive rate of x-ray on DDD, DJD, Spondylolysis, and Spondylolisthesis as the study compared over 100 pain free age-matched folks with over 100 low back pain patients. (here)
What's new - Page 2
© Copyright 2002 – 2012 by Dr. Douglas M. Gillard DC - All rights reserved