We have learned on this site that some patients may suffer debilitating back pain and/or leg pain (sciatica) yet not have any positive findings on MRI – i.e., there is no disc herniation or any disc abnormality detected. For these unfortunate patients, the diagnosis of discogenic pain (a.k.a. internal disc disruption and or IDD) must be ruled out by a technique called provocative discography.
In a nutshell, this procedure (which is really an art) calls for the examiner to place a needle into the center of the suspects disc and pressurize it by injecting a contrast dye (which will show up bright white on fluoroscopy/CT). If, upon injection, that disc re-creates the patient's exact pain (concordant pain), then it is more likely than not that the disc is the cause of the patient's pain. More specifically, the annular tear that allows the contrast to reach the nerve-rich outer fibers of the annulus is the cause of the pain. However, we are not quite finished with the procedure: the examiner will then repeat the procedure on the disc above, which in this hypothetical case looks perfectly normal on MRI – not even any degenerative change. It is hoped that this disc will not create any pain at all. If that is the case, then provocative discography has successfully confirmed the patient has discogenic pain coming from the target disc. In an ideal world, the patient now undergoes a CAT scan in order to visualize the size and location of the annular tear.
Provocative discography is an art! Only the most skilled physicians can correctly perform this procedure. For example, all discs will become painful upon injection if they are pressurized over a certain amount. Another tricky situation arises with the patient who suffers a grade 5 (see below) annular tear which cannot hold pressure. In this case, the patient may not experience any pain, even though the contrast dye flows right out of the disc upon injection.
Is It Safe? one of my concerns about any needlestick injury to the disc (discography certainly included), was that such an injury would result in a train of degenerative events--like is does with sheep and rat discs [5, 27, 28, 29, 30]--that would ultimately lead to the development of a symptomatic annular tear and/or disc herniation, which in turn could lead to discogenic back pain and/or leg pain.

Thankfully, the famous Volvo-Award and ISSLS Prize winnering author, Eugene Carragee, published the results of a wonderful investigation into the long-term outcome of volunteers who had acted as control subjects in previous discography experiments. That is, none of these folks had any back problems or disc problems and voluntarily allowed there discs to be stabbed with the discography needle--this put a full thickness annular tear in their discs. Carragee et al. wanted to see (as I did) just what happened to these brave human beings. In his 2004 publication (1), he reported that all of the 46 subjects who initially started the experiment were available for evaluation at four years (that is quite an achievement in of itself!). So were a group of control subjects that were matched for sex, age, and occupation--none of them had undergone discopathy (i.e., their discs were not stabbed with a needle). And the bottom line of the experiment was that previous needlestick injury via discography did not (at four years status-post anyway) result in any statistically significant increase in low back pain, decrease in function, work loss, doctor visits for back pain, or medication usage. In other words, discography does not cause low back pain in of itself (at least four years out it doesn't).
HOLD THE PRESS! in 2009, Carragee reversed his opinion on the long-term effects of needlestick injury in an incredible investigation (it won the prestigious ISSLS Prize that year). More specifically, this all Stanford team of researchers reported the results at the 10 year time point of a prospective study in which 75 subjects without serious low back pain initially underwent MRI and discography in 1997. As a control group, 75 subjects--none of whom had any pain--were matched to the experimental group with regard to gender, job and body morphology; they all underwent MRI scans but did not undergo discography. At the 10 year time point, another MRI was performed on all participants. The results were surprising (not to me): unlike the four-year Carragee study (which showed no ill effects from discography stick), this time there were big, statistically-confirmed differences between the two groups. More specifically, the discs that had been exposed to puncture and injection had a greater progression of degenerative findings compared to the control (non-injected) discs. With regard to new disc herniation, there were 55 new herniations in the discography group compared to only 22 in the control group (p = 0.003), and these herniations "were disproportionately found on the side of the annular puncture (p = 0.0006). Furthermore, disc height loss as well as a loss of disc signal also was greater in the discography group. Carragee concluded, "Modern discography techniques using small gauge needle and limited pressurization resulted in accelerated disc degeneration, disc herniation, loss of disc height and signal and the development of reactive endplate changes compared to match-controls. Careful consideration of risk and benefit should be used in recommending procedures involving disc injection." I told you so!
CLASSIFICATION SYSTEMS:
When it comes to diagnosing discogenic pain, provocative discography with CT assistance is the proverbial gold standard. The Dallas Discogram Classification System was originally described in the late 1980s (126,118), but has since been modified twice.
Here's a summary of the 'Original Dallas Discogram Classification System':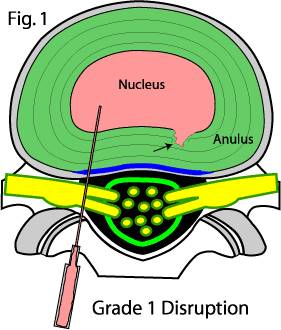 Grade 0: Normal non-leaking nucleus - all the contrast material stays within the nucleus after injection.
Grade 1: Annular tearing confined to the inner region of the annulus fibrosis - Fig. #1 demonstrates what this might look like on axial CT imagery (although the needle that delivered the contract material into the center of the disc would be long-gone by this time). Note the needle has injected a radio-opaque dye (pink) into the center of the disc (nucleus) which is used as a 'marker'. At about 5 O' Clock (black arrow) a 'tear' or 'fissure' has become visible from the leakage of some contrast material. It extends from the nucleus radially into the inner 1/3 of the annulus fibrosus. This fissure would probably not be painful since there are usually no pain fibers in this region. This could be described as a 'Grade 1 Radial Annular Tear', or Grade 1 Internal Disc Disruption (IDD).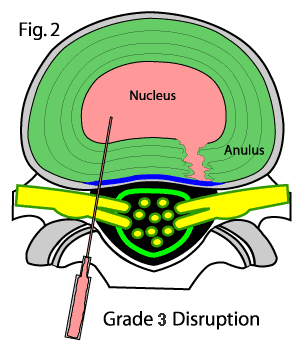 Grade 2: Annular tearing has completely disrupted the disc but has NOT affected the outer contour of the annulus, i.e., no leakage, no bulging, or no herniation - Figure #2 demonstrates that there has been a progression or worsening of the annular tear/fissure. Now the entire annulus has been disrupted (torn through), except for the very outer fibers and the PLL (blue) as denoted by the pink contrast material that has now moved from the nucleus through the annulus. Note that there is no leakage of dye from the disc, nor is there any bulging or protrusion of the disc. This would be classified as Grade 2 IDD or a Grade 2 radial annular tear. Despite no compressive effect on the right nerve root (yellow) (which later converges into the sciatic nerve), many of these patients (suffering Grade 2 IDD) suffered lower back pain which traveled into the lower limb and even past knee into the lower leg and foot.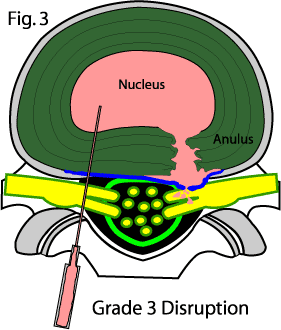 Grade 3 : Annular tearing has now completely disrupted the annulus and posterior longitudinal ligament (PLL) (Blue)and deformed the contour of the posterior disc. figure # 3 demonstrates a 'full thickness annular tear' in which the annulus, outer annulus (Sharpey's Fibers), and PLL have been completely ruptured. Contract material is seen leaking out the back of the disc into the epidural space. The presents of a 'disc bulge' and/or 'disc herniation' is also inclusive in this category - with or without leaking into the epidural space. This presentation is classified as 'Grade 3 IDD', (aka: Full thickness tear, Grade 3 radial annular tear). Surprisingly, this more serious form of disc pathology produced the same percentage of patients suffering sciatica as did the Grade 2 IDD patients? This appears to indicate the nerve fibers in the posterior annulus are a strong trigger for the perception of sciatic pain in the lower limbs.

Modern Discography:
The 'Modified Dallas Discogram Description' was finalized in the 1990's and is the 'Gold Standard' for the CT classification of annular tears. It was initially developed by a group of researchers from Texas (as described above in detail) (126), 'modified' by Bogduk et al. (7) in 1992, and then finally modified by Schellhas et al. in 1996(15). Below is a brief look at what that system looks like: (Sorry for getting off topic here!)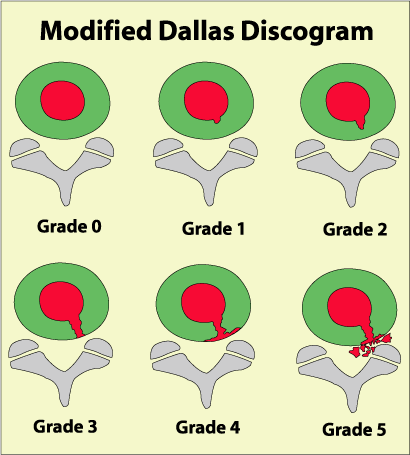 The chart on the left demonstrates the five possible severities of the radial angular tear, as seen on an axial CT image. (In reality things are not always so 'nice and need' on discography but often they are.) The grade 0 is a normal disc, where no contrast material (red stuff that was injected into the center of the disc) has leaked from the confines of the nucleus. The grade 1 tear has leaked contrast material but only into the inner 1/3 of the annulus. The grade 2 tear has leaked contrast from the nucleus into the outer 2/3s of the annulus. The grade 3 tear has leaked contrast completely through all three zones of the annulus. This tear is now believed to be painful since the outer 1/3 of the disc has many tiny nerve fibers that may now be irritated. The grade 4 tear further describes the grade 3 tear, in that, now the contract has spread circumferentially around the disc, often resembling a ships anchor. To qualify as a grade 4 tear tear, the circumferential spread must be greater than 30 degrees. (Pathologically, this represents the merging of a full thickness radial tear with a concentric annular tear.) The 'evil' grade 5 tear describes either a grade 3 or grade 4 radial tear that has completely ruptured that outer layers of disc and is 'leaking' contract material from the disc into the epidural space. This type of tear is thought to have the ability to induce a severe inflammatory reaction in 'some' peoples posterior neural structures. In some cases this inflammatory process is so severe is causes a painful 'chemical radiculopathy' and sciatica 'without' even the presents of nerve root compression.
References:
1) Carragee EJ, et al. "prospective controlled study of the development of low back pain in previously asymptomatic subjects undergoing experimental discography." (2004) Spine; 29(10):1112-7
5) Osti OL, et al. Volvo Award - "Anulus Tears & Intervertebral Disc Degeneration: an Animal Model" - Spine 1990; 15(8):762-766
27) Moore RJ, et al. "Remodeling of Vertebral Bone after Outer Anular Injury in Sheep." – Spine 1996;21(8):936-940
28) Key JA, Ford LT "Experimental intervertebral disc lesions" – J Bone Joint Surg 30A:621, 1948
29) Moore RJ et al "Changes in Endplate Vascularity After an Outer Anulus Tear in the Sheep" – Spine 1992; 17(8):874-877
30) Kim KS, Yoon ST, Li J, Park JS, Hutton WC. 'Disc degeneration in the rabbit: a biochemical and radiological comparison between four disc injury model s. Spine. 2005 Jan 1;30(1):33-7.
118) Moneta GB, et al. "Reported pain during lumbar discography as a function of annular disruption and disc degeneration." Spine 1994; 19:1968-74
126) Sach BL, et al. " Dallas discogram description: A new classification of CT/discography in low back disorders. Spine 1987 ;12:287 -94
© Copyright 2002 – 2012 by Dr. Douglas M. Gillard DC - All rights reserved